Giving businesses a voice: Achtung! Broadcast
Achtung! Broadcast, our specialist podcast agency in the capital Berlin. Living brands and businesses a professional end-to-end service for THE audio format of our time.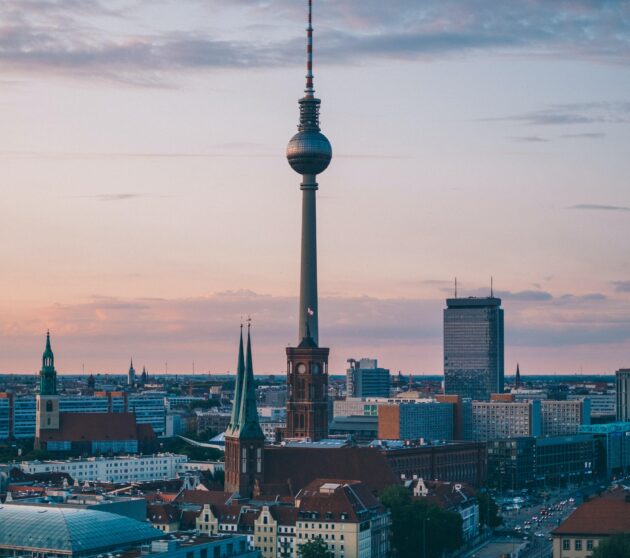 Felicia Mutterer is the head, founder and CEO. The journalist successfully founded, and continues to run, STRAIGHT – a multimedia offering for women who love women, which initially appeared in print and has now garnered acclaim as an Audible Original podcast production.

Felicia has excellent contacts and is a jury member for the Deutscher Podcast Preis (which awards prizes for German podcasts) and Kultur- und Kreativpiloten (which honours companies in the creative and cultural industries). She is also in high demand as a host and speaker at conferences on topics relating to diversity, women and sport, to name just a few. At Achtung! Broadcast, Felicia and her team of brand and company podcast specialists develop all kinds of audio material – series, reports, features, talks and comedies – that are exceptional in every way.

From target group and topic analysis to design and podcast production, distribution and marketing, the editors, market experts, sound engineers and producers follow through on all the steps needed to achieve a successful audio product and are always on hand to provide any necessary assistance.
You can count on these services
Advice
Knowledge is there for everyone! The Berlin-based team can therefore provide the insider knowledge needed to launch successful audio formats in individual workshops and coaching sessions.

Which ideas and content are best communicated in an audio format? How are brands optimally positioned in the German podcast market? What does the brand's own target group like to listen to most? What steps are needed to convert an audio idea into a successful product?

Regardless of what is involved, the Berlin specialists have the answers.
Editing
Good formats need even better concepts: the experienced editors at Achtung! Broadcast can take any idea and create a tailored concept that has the potential to storm the podcast charts. They provide audio formats with the necessary substance by including carefully researched facts and exclusive content, and are always thinking about the optimum cross-media usage.

To ensure that nothing stands in the way of a successful product, our social media professionals at Achtung! Neo provide copy, images and video material that are appropriate to the relevant target group and suitable for all social media. If required, the team can also support all channels and their communities.
Production
No equipment? No problem! Our Berlin-based colleagues can ensure top-quality recordings in any audio format in their professional, in-house recording studio.

Of course, they also have all the tools needed to professionally record material remotely and on location. At the editing stage, they perfect the material, ensuring that each voice is clearly expressed. In this way, all listeners can enjoy the highest-quality sound.

In the case of larger audio productions, Achtung! Broadcast works with partner studios in order to professionally bring even the craziest idea to fruition.
Distribution
Every audio product needs its platform – we know them all!

With their industry expertise, our specialists ensure that each new format will find its way precisely to the place where the target group is waiting: they work across the entire range of platforms and position their audio products in the optimum spot.

Thanks to their many years of experience, Felicia and her team have a feel for current trends – and always keep an eye on the key metrics. This means that they can respond quickly and competently to changes in the podcast market and achieve sustainable success with all formats.