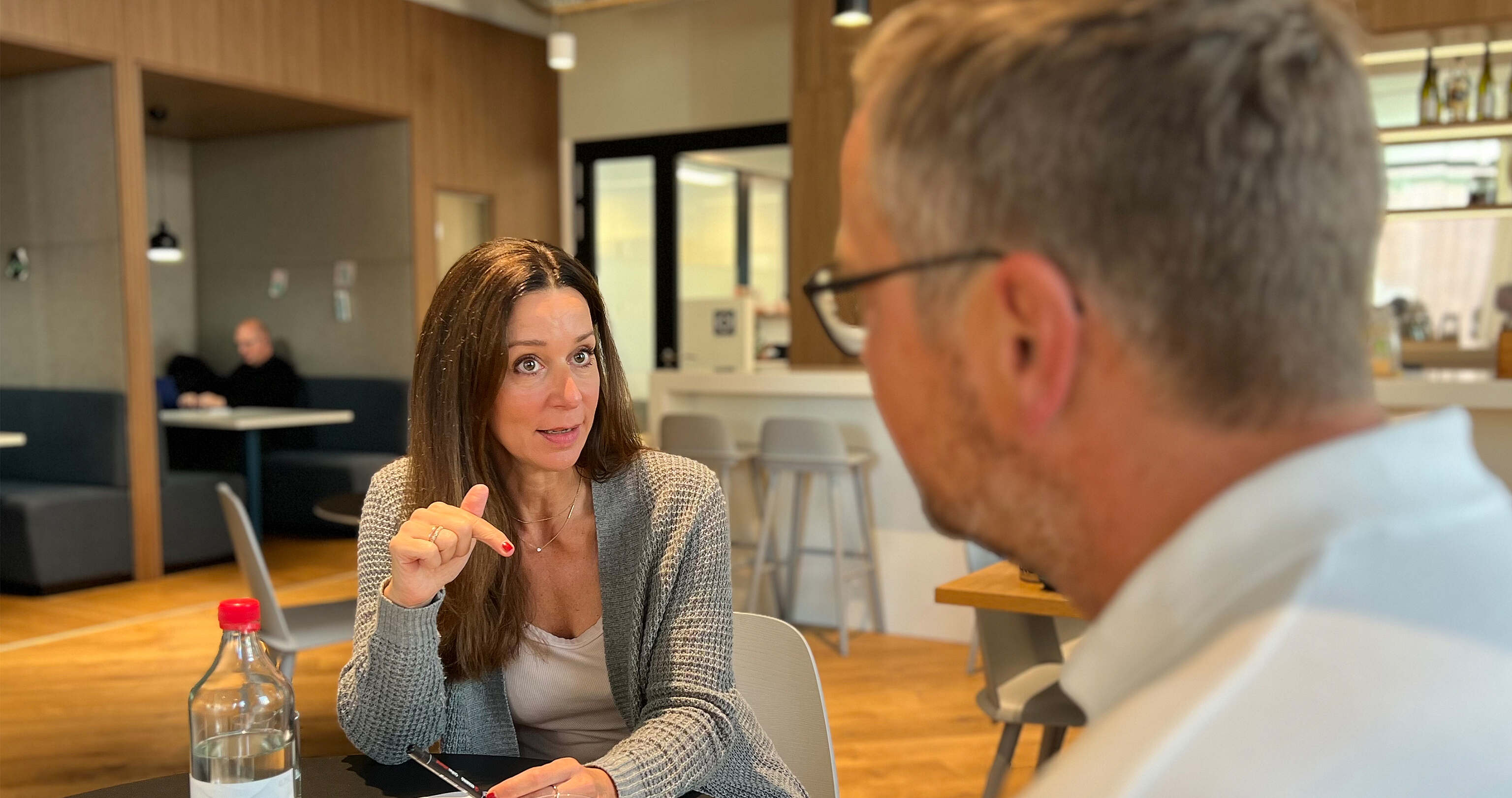 Babette Kemper was the first co-entrepreneur to bring her own agency to life on the Achtung! Startup Platform. Nearly five years ago, the former managing director of Ogilvy PR in Germany founded her own agency with Achtung!: Achtung! Mary. It had always been a dream of Babette Kemper to lead her own agency someday, which would then be called "Mary". The name Mary because Marie is the start-up founder's first name. She goes by her middle name, Babette. Today, Achtung! Mary employs 50 Marys, is now based in Dusseldorf, where Achtung! Mary was initially founded, and in Hamburg, where Achtung! was founded. Achtung! CEO Mirko Kaminski talks about this with Babette Kemper.
Hi, Babette. Was there ever a time over the years when you regretted a bit that you founded your own Achtung! agency? In all honesty now.

Well, that's a good question to start out our talk with. My answer could lead our talk in an exciting direction. But unfortunately, I have to say that I have a very boring answer: no. I've never regretted it for a moment – even if I naturally don't know how my career would have been if I had taken a different decision. Because such thoughts never come to my mind, even in very quiet moments, I can say with absolute certainty that I am absolutely happy and in the right spot where I now am. And that's a really great and satisfying feeling.

Did you ever think four and a half years ago that Achtung! Mary would be so big and such a success story?

No – interestingly enough, I founded the agency without any classic expectations. When we started to talk about it and make plans, I simply had the feeling that this was the right step. The stable growth of Mary in the past years is also just one dimension of the "success story" after all. There are many other success parameters that I experience with Mary which are not actually associated traditionally with stories of success. These are rather things that I experience behind the scenes. That I'm at the centre of my team, genuinely as Babette, that I feel free – and my signature can be found in all areas of management, the development of the organisation and my way of providing convincing leadership, this is my very own (and very valuable) success story to me.

By establishing an agency with Achtung!, it means you are a co-entrepreneur of Achtung! and can tap into many things at Achtung!. What is the most important to you, and what means the most to you? The brand, shared services such as HR, IT and bookkeeping, or being able to bounce around ideas and collaborate?

I can't prioritise that, as all of the services you've named are needed in a company in order to be able to act vibrantly and resiliently. I need and use all of the respective departments, colleagues and expertise.

Are there also things that are offered by Achtung! but which you prefer to take care of yourself, to make "Mary" more tangible?

No, we use everything. I may give my own perspective to something – or more or less of it. But we profit from everything offered. But that is of course because, in the end, Achtung! simply offers what we need as an agency. From functioning "engine rooms" to new business initiatives, impulses, events … all this is needed. Everything Mary-specific is – in other words the positioning, specific expertise, structure, micro-culture, leadership, … – these are my decisions.

The idea is for the start-up founders to use the Achtung! brand and complement it with their own personality. How much of Achtung! Mary is today Achtung! and how much is Babette Kemper, in other words Mary or Marie?

That is a really interesting and difficult question. I've never really thought about it consciously. I've been very Achtung! since day one. When I was still working as a manager at international network agencies, when talking with you – and about everything I heard about Achtung! – I thought: yeah, that's what modern communication is about. Strategic communication, corporate and employee communication, corporate, brand, campaign, social, product … everything is dependent on one another, and we have to support our customers in acting in line with this.

In what way precisely?

Across all disciplines – based on a foundation of strong ideas. This means we can be tasked to collaborate with other agencies in specific areas or work for our clients in a holistic way. That is Achtung! – but that is also very Babette and, thus, Mary! This conviction – and this expertise needed for it – is completely compatible with my development, which I have lived up and established professionally in the past two decades. But I am also very specifically Mary – and this can be found more where something happens between us as Mary colleagues. How I handle situations in the agency and with clients. How we live up our Mary culture. That is always connected closely with one's own personality – and also with the respective managing person. Which is why I founded the agency; I don't want to be focused on what's been done – or fall into line. That is also certainly very specifically Babette – and very specifically Mary as a result.

When you look back at your past: where are the greatest differences between the Startup Platform with Achtung! Mary and agency networks?

Generally speaking, the greatest difference is what I just described as "specifically Mary". I would certainly also find positionings and offers today in (network) agencies that I would be convinced of. But I would like to be a "host" for my colleagues 1,000 per cent and invest lots of hours – also and above all in my free time – in thinking and reflecting on continually improving myself as an employer who fully matches who I am. Only as an owner can I live and feel this – as an employed manager, who naturally has a function and is dependent on the respective employer, I was not able to completely live this. Although in these roles, too, I gave it my all, with my full attention and responsibility, to act in line with my personal convictions.

Now to focus on business: where do you get your new business from? Through your personal network and in the form of inquiries directly to Achtung! Mary? Or many also via Achtung!?

Many through Achtung! – but also through my personal network. Former clients, former colleagues who have switched to the company side at some point, many recommendations … that is perhaps too vague as an answer. I really would have to do an analysis to be able to offer concrete facts. It's not at all very easy, though – after all: I think that it is definitely a perfect mix that allows me as an entrepreneur to reliably plan.

Do your clients consider themselves Achtung! or rather Achtung! Mary clients?

Interestingly, it differs – I believe. We should maybe ask them. That would also be interesting. For many, we are "the Marys" – but also "the Achtung!s".

And what about employees? How do you win them over? Or does Achtung! get them for you?

Many – a lot – of colleagues indeed come from my past or via recommendations. But also our mega-active personnel colleagues in Hamburg recruit with all their might and exceptionally successfully. I'm always part of the recruiting process and get to know the candidates. For me, excellent craftsmanship is, of course, a very important component. But I also pay close attention to a large extent to whether the person also has the potential to be a Mary.

And now at the end, an obligatory but also important question: where do want to go with Achtung! Mary?

To be very honest: I don't have any concrete plans! But I have a lot in mind, as we are in a stage of permanent change and adaptation at Mary. Although our industry and the political and economic situation in Germany and the world are under a lot of pressure, and we are all straining because the challenges are so big, I wish very much that Mary continues to remain as agile, resilient and satisfying as Achtung! Mary has been since 2019.

So, now I have a few questions for you … (About the interview)