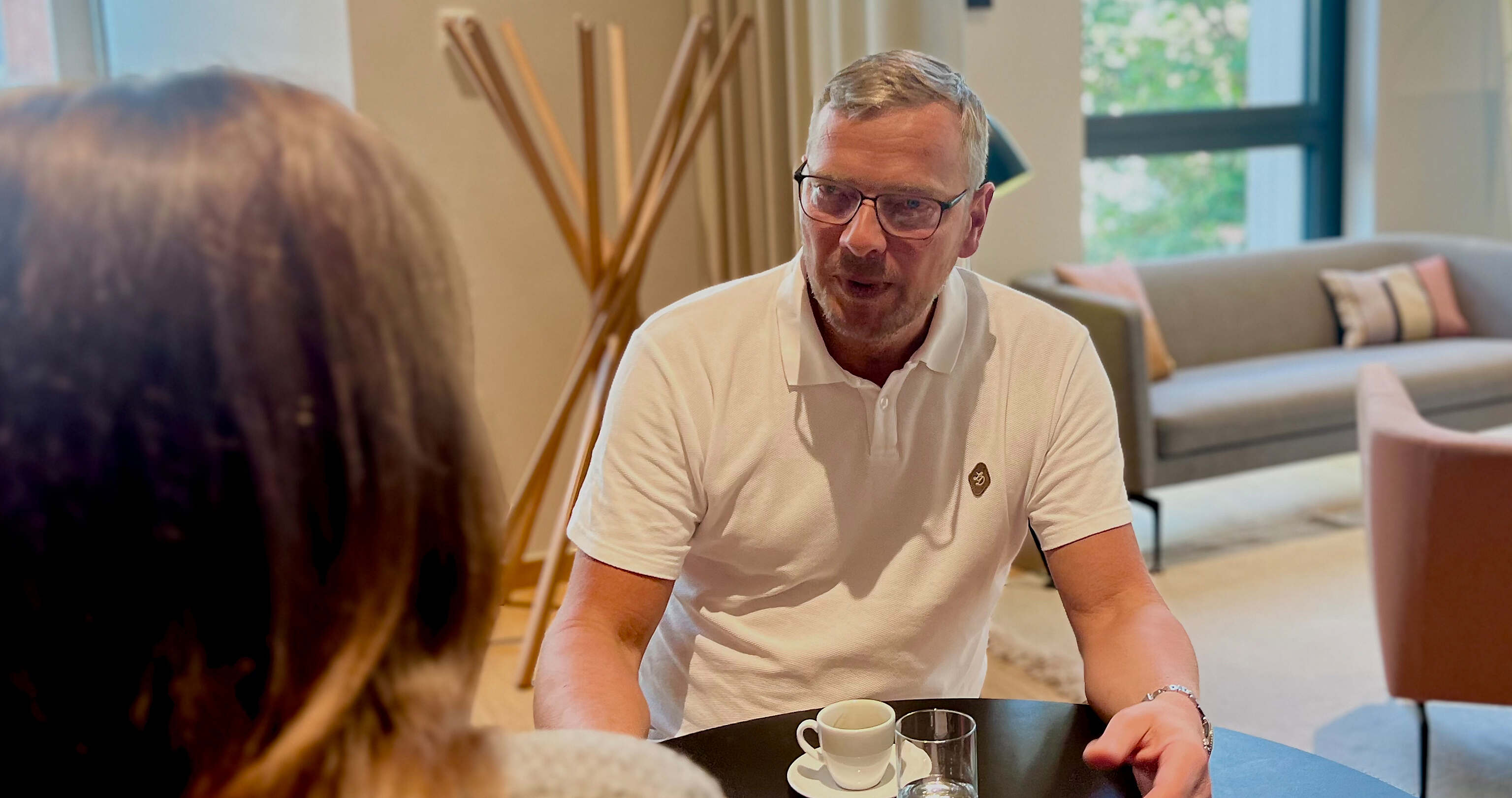 When Achtung! was founded, it was still important to be at the top of the list in the Yellow Pages under "Agency". With the first letter "A" and the agency name "Achtung!", the chances were good. Stemming from Achtung! five years ago is the Achtung! Startup Platform. Babette Kemper, amongst others, has founded her own agency here with the support of Achtung!: Achtung! Mary, today with some 50 employees in Dusseldorf and Hamburg. On the occasion of the platform's 5th anniversary, she interviewed Achtung!'s CEO and Founder Mirko Kaminski. And he told us how and where more start-ups can grab their chance.
The question seems almost mundane, but: how did you come up with the idea of the Achtung! Startup Platform?

Our CFO Thorsten Beckmann, our CSO Max Ströbel and I sat together at one of our managing-director off-sites and thought about how it would be if we gave passionate, highly competent personalities with an entrepreneur attitude, who are also well-networked within the industry, access to our strong Achtung! brand, capital and the support of our shared services such as HR, IT, bookkeeping, accounting and advertising? We would free them up – even from any risk – and they could fully concentrate on what they do best and what they are most passionate about: advising clients instead of writing up invoices, developing concepts instead of drawing up job ads, creating ideas instead of having to make sure they comply with the GDPR … At the time, we never even had the term "Startup Platform" in mind. We first just wanted to try it out. And we – you and I – had a talk, and the concrete idea of Achtung! Mary was born. The rest is a great success story.

I assume that you have to have talks with a few interested people before an agency is established, right?

First, it's very important that we are not the ones to go out to the market, screen potential candidates and then contact them. We would have to employ an entire team for that alone. And on top of that, the will and entrepreneur gene are not so easy to identify from a distance. This means: we rely on a purely inbound concept. Because when someone contacts me, then I know: that person has already looked into the Startup Platform and can imagine starting up something all their own as a co-founder. I answer such messages personally. After all, renowned persons from the industry usually contact me who are still employed at the time and have a highly visible position. This requires a lot of trust. I even lead the first talk myself – sometimes remotely, sometimes in a café or restaurant. I ask and answer questions. What interests me is if the respective agency idea is a match for us, if it complements us, if the person fits on a cultural level and if we can imagine that all of our fellow start-up founders would like to work with them.

And if it's a match – then what?

I ask them to write up the press release about the launch of the new agency.

A press release? Why? With me and before the founding of Achtung! Mary, that was not the case, I believe.

That's right. I started doing that afterwards. The writing of such a press release about the launch, at a time when the founding of the agency is not even written in stone, simply forces you to very clearly communicate what is special about the new agency and who you should turn to with which services. The press release is sort of like the essence of the business idea. And it is of course at this time when the first decision is made about a new agency name. That is not at all so mundane. It can be a descriptive name like Achtung! Broadcast. Or one like Achtung! Mary, which is closely connected to the start-up's founder. Theoretically, however, a name like Achtung! Munich or Achtung! Dresden would also be possible. But it can also be a made-up name that creates excitement and curiosity. We naturally have our counsellors always check the name first to see if it is "available" and can be registered.

And the next steps? Does a classic business plan also have to be drawn up?

No. Business plans are no use – especially in the agency business! We check mainly how someone wants to build up their own agency, which passion they can contribute to their own agency offer, and how well the person is a match to us. Then at a certain point, our CFO Thorsten Beckmann is called in – my partner in crime so to speak. We make a sensational team. I take decisions on a gut feeling, and he's more rational. This makes for a strong duo. And because we are so picky, we've always done everything right so far. All of our start-ups and Achtung! agencies are successful. Such a rating is very rare. Normally, only one or two of ten start-ups work out. You could almost say that we can give Achtung! start-up entrepreneurs a guarantee for success.

When everyone basically agrees: how long is it then needed to negotiate the company and management contracts, up to the notary appointment?

Our record to date: just one week! But sometimes it also takes a few weeks. We're very fast in that respect. A reason is that our draft contracts are very, very fair and completely balanced. We briefed our counsellors to draft a contractual framework that is so fair that the counsellors of a co-founder hardly have anything to change. We simply want to avoid potential co-founders from backing out after all, shortly before the notary appointment or after a few talks, because they possibly feel shortchanged. And we also don't have any interest in a start-up founder having the feeling after a few years that the relationship is unfair, and as a result questioning everything. We want long-term and sustainable partnerships in the end.

Can you give us some examples of when it's not a match and you reject an interested candidate?

I kindly decline if I have the feeling, for instance, that someone wants to start up with us who believes that Achtung! would really take care of everything for them and success would be a given. The co-starting of a new agency requires – even if we do take care of lots of things – full dedication, passion and heart and soul. And I also kindly decline in such cases when I have the feeling that the personality does not match the Achtung! culture. For instance, we don't put up with political games, hidden agendas, arrogance and arsey behaviour. In contrast, we are genuine, direct, straight forward and down to earth.

What other areas or which topics can you imagine being the basis for further Achtung! start-ups?

Soooo much is still possible! On the one hand, co-entrepreneurs could build up Achtung! agencies in cities or regions where we are not yet active. I'm thinking of Munich, Dresden or Leipzig, or of Hanover. Berlin is where we have our podcast studio Achtung! Broadcast, but are not present with other services. On the other hand, there are specific areas of competence that we could label with an Achtung! agency. These could be, for instance, Gen Z, performance marketing, health care, B2B, employer branding, public affairs, political campaigning … But as I said: we don't specify anything. Decisive is what the start-up founders are passionate about.

How can interested persons get in touch with you?

In various ways. I'm approached at industry events, receive emails (mirko.kaminski@achtung.de) or direct messages via LinkedIn or Facebook. Normally, a first video call is then quickly set up.


In return, Mirko Kaminski interviewed co-founder Babette Kemper. You can find the talk here (Link).